Important Notice: Regretfully, the Compton Heights Concert Band's annual Sunday Serenades & Musical Mondays concerts in Francis Park and Tower Grove Park have been cancelled this summer. Please note you may enjoy the Band's Sunrise Serenades-YouTube.

Stay tuned for more developments by the Band and continue to enjoy Sunrise Serenades!

The Compton Heights Concert Band of St. Louis presents exciting, old-fashioned Sousa-style band concerts with world-class guest artists.

The main season is an outdoor Summer concert series Sunday Serenades & Musical Mondays. The Band also presents annual Memorial Day and December Holiday Pops. The Band has collaborated with many groups, including the "All American Alumni Band" in a Labor Day Concert. The Band is pictured in Tower Grove Park. (Photo by L.T.Spence, Post-Dispatch)

The Band rehearses year-round in the former Immaculate Conception Catholic Church at Lafayette & Longfellow Place. See Built St. Louis for photos of this beautiful facility.

Featured Guest Artists -- See Guest Artists/Soloists



Kitty Swanger administrates the Band's Facebook page

Sunrise Serenades TV show:
Sunrise Serenades-YouTube


Twitter-ComptonHeightsBand@CHBandStL:



The Band is a 501 (c) (3) tax exempt organization.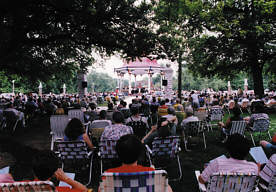 The Band was founded in 1976 by Harry Swanger, President and Bassoonist. The Band is conducted by professional conductor Edward Dolbashian. The original conductor was Kaid Friedel who was a French Hornist in the St. Louis Symphony.

The Band appeared on its own TV show "Sunrise Serenades" which aired for a year on KMOV-TV, CBS Affiliate with Harry Swanger and the band mascot, Moosic! For an additional segment from that show featuring the late Johnnie Johnson, see "Sunrise Serenades - Johnnie Johnson". The band concert experience has been expressed to the public through music, words, and even by a plein air painter, BillyO . To read a vivid description of a summer concert, see The Sounds of Summer, written by Robert E. Knittel.

The Riverfront Times named Compton Heights Concert Band - Best Entertainment Value on a Hot Summer Evening.



Jim Sparks, Photographer